We source farm-raised shrimp from only the top producers in Ecuador, where less-intensive farming methods and advanced harvest and production technology make their aquaculture industry the most sustainable of its kind.

Yes you can! Our product was designed to work perfectly with Anova Precision Cookers or other sous vide devices. Just as with the stovetop cooking method, no thaw step is required. The frozen pouch goes directly into the water bath.

Cook for 10 minutes at either 158F (for seasoned shrimp) or 165F (for shrimp and sauce varieties).

For more information on how to cook and what to make, check out our Recipes, Tips and Tricks page.

You have the freedom to be as creative as you like when using the perfectly cooked, perfectly seasoned or sauced shrimp.

Our Signature Seasoned shrimp is a great start to any salad or grain bowl. Add cooked shrimp to a butter or cream sauce or just eat them as a snack.

Pair French Quarter Alfredo or Garlic Herb Butter shrimp with your favorite pasta and dinner is done.

We are always adding easy and fun ideas to our recipe blog, and if you come up with something great at home we'd love to hear about it! Drop us a line or tag us on instagram!

Every step of production, from peeling to packing, is done in our state of the art, BAP-certified factility located just outside New Orleans.

Advanced automation (and a sense of pride in what we do) protects shrimp from abuse, adulteration and mishandling.

Our packs contain only premium shrimp and gourmet seasonings or sauces, which making them a stronger value and more versatile option than "all-in-one" dinner packs.

All varieties of Prime Shrimp Cook-In-Bag are made with 31/40 count, peeled and deveined shrimp.

This is the size commonly used in your favorite dishes at restaurants and is the most popular size sold at many grocery stores.

Shrimp is a naturally gluten-free food and many of our varieties of shrimp contain ingredients that are free of gluten as well.  Check out our gluten-free collection.

Many of our offerings are also compatible with paleo, keto and Whole30 guidelines!
Shipping and Handling Information
All products are shipped via UPS from our facility in New Orleans, Louisiana. Orders are protected with dry ice and should arrive fully frozen.

Because our products are highly perishable and we want them to arrive in perfect condition, we require 1-3 business days to process orders and confirm all details of each shipment before sending them off.

We only ship Monday through Thursday to ensure orders are not in transit over the weekend.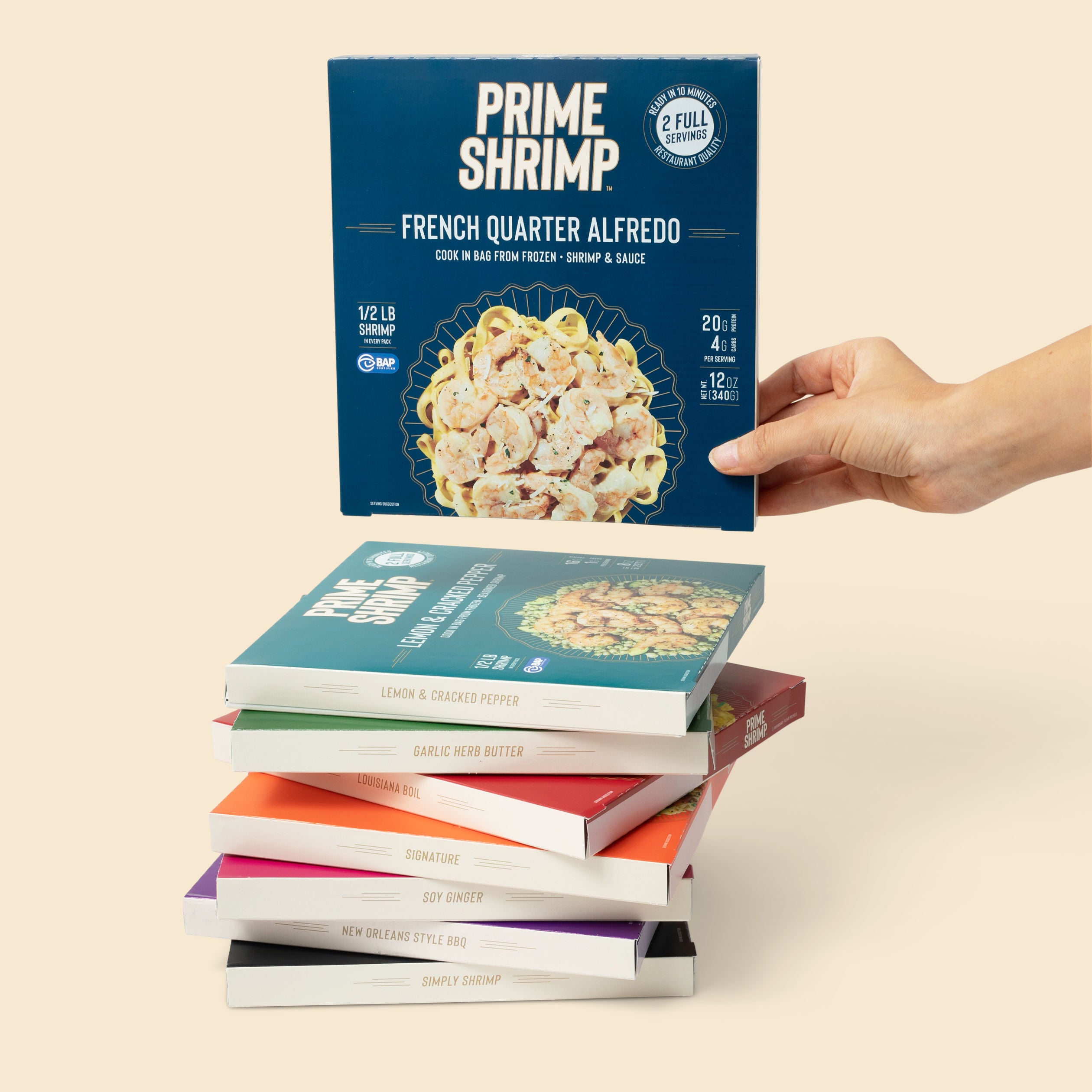 Unpacking and Enjoying
When you shipment arrives, move your shrimp from the shipping box to a freezer as soon as you can. If any part of your order appears to have thawed during transit, please dispose of the product and contact us for a refund or replacement.

Handle any remaining dry ice with care and leave to dissipate outside or in another well-ventilated area away from kids and pets.

Now what? Check out our Recipe Book for simple meal ideas.