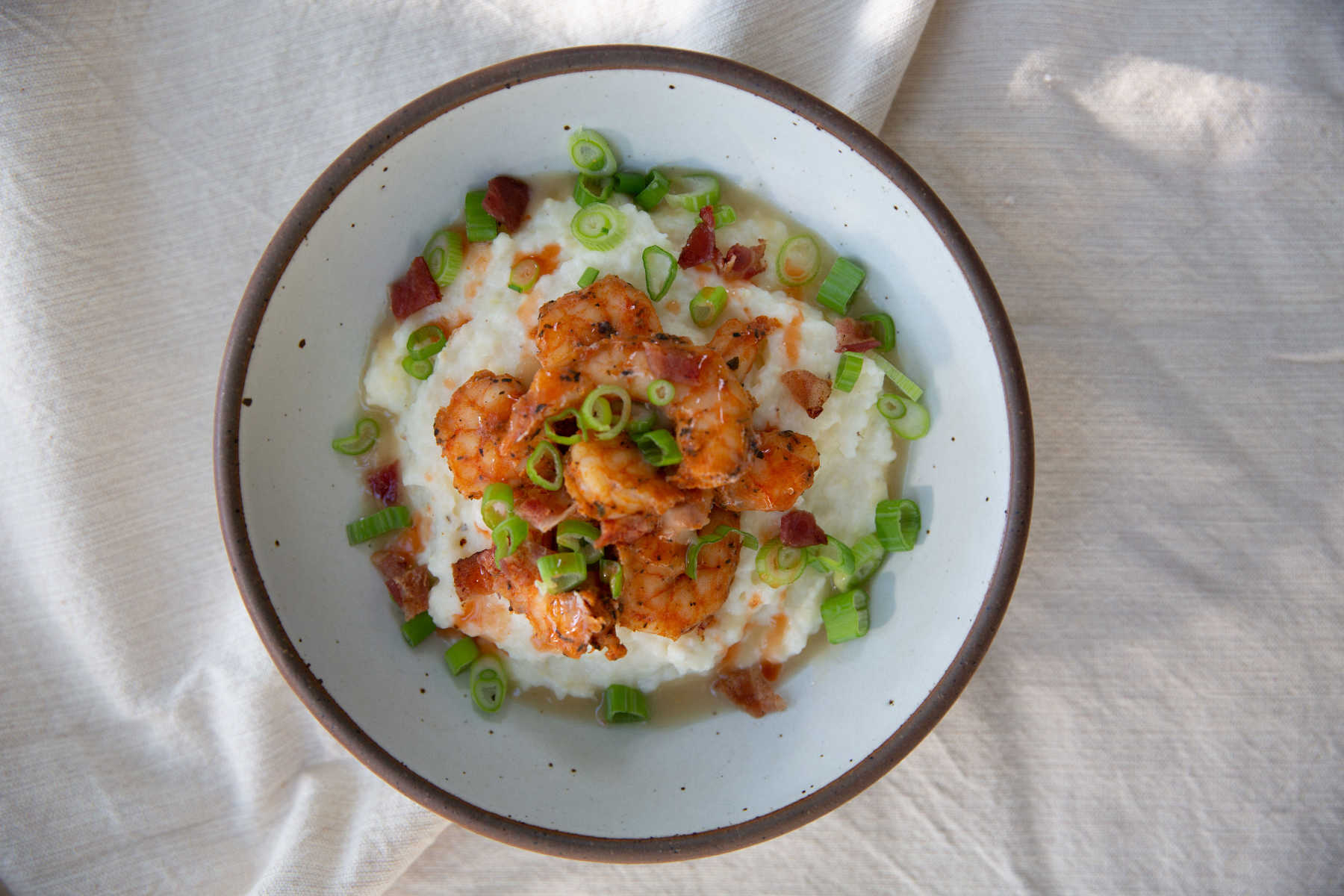 Shrimp and grits was born as a humble and cost-effective meal for gulf coast fishermen and their families. While traditionally served for breakfast, it has since evolved into a popular dinner item, finding its place in a wide range of restaurants, from casual seafood shacks to trendy hot spots.
The catch is that it usually includes a rich, buttery sauce that is undoubtedly heavy on calories. While this version has a special place in our hearts, sometimes a lighter (healthier) option is just what we need. This recipe works well with our Signature or Louisiana Boil Seasoned Shrimp, which offer 16 grams of protein for just 76 calories per serving. For a richer option, reach for our New Orleans Style BBQ, which includes a spicy, buttery sauce.
Some versions of New Orleans-style shrimp and grits incorporate crispy bacon for its smoky richness, while others might introduce additional elements like andouille sausage or Tasso ham to at some saltiness and spice. Variations abound, but the essence of the dish remains intact, combining creamy, comforting grits with succulent shrimp. Here, we throw in bacon crumbles and chopped green onion to add some freshness.
To make it even healthier, add in more vegetables like chopped celery, onion, and bell pepper. You can throw these right in with the grits as they cook.
The history of shrimp and grits in New Orleans reflects our city's rich culinary history. It's a testament to the adaptability and creativity of Southern cooking, making it a culinary tradition we're proud to share.
Add hot sauce to taste and bottomless mimosas at your discretion. Cheers!
How to Make Shrimp and Grits
Like any recipe using Prime Shrimp, this shrimp and grits recipe comes together quickly and easily. You'll start by cooking your Prime Shrimp according to package instructions. While that gets going, make your grits however you like. It's customary to add cream and light spices, while many southerners also add cheese. Finally, you'll ready any garnish you have before layering it all together in a big bowl. And just like that – comfort food at its easiest.